Stunning heavy duty case, all original
Large power dial and a 15 minute timer
ammeter dial to show power use
Sensations - low to high
Works on 120V (North America) and 220V (UK and Europe)
This really is quite a showpiece.
A large heavy duty case and a parabolic arrangement for the electrodes. All original and dates from the early 1960's. Overall it is in very good/excellent condition.
Power is controlled by the large dial on the control unit which ranges from very low to high. We actually re built the potentionmeter to give a wider range of sensations.
There is also a fifteen minute timer - which turns the machine off when it reaches 0. This is very useful if you are inclined to loose track of time. Also, a voltage selector switch, athough like all machines it works better on the 220V option. For those with US voltage, investing in a small transformer ($15) would improve performance over the 110V option on the machine itself.
The Ameter indicates power consumption and looks cool, like Thunderbirds did when it first came out.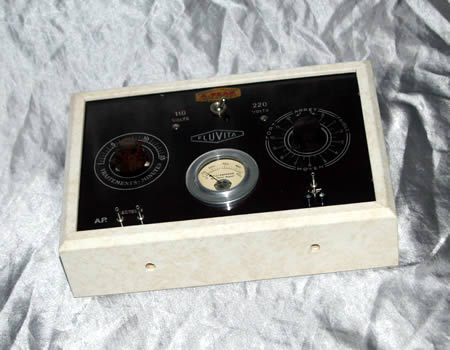 Naturally we have replaced the cables with modern flexible PVC and refurbished the internal electrics to the highest possible standards allowing for the original design. This includes new capacitors, double insulated interior wiring and modified the plug socket arrangement to make it safer to use.,